It's rare to find a material that can check off all these boxes — flexible, durable and lightweight.

That's precisely why corrugated plastic rolls provide a unique solution. Unlike other durable materials, such as hard plastic, wood or metal sheets, corrugated plastic can be stored and delivered in space-saving rolls. At the same time, the water-, chemical- and impact-resistant properties of plastic have advantages over other flexible materials, particularly fiber corrugate.
Considerations for choosing flexible corrugated material
Not all flexible sheet plastic is alike. If you're searching for a flexible material with a durability that rivals metal and wood, you'll want to consider its makeup and construction.
HDPE corrugated plastic is a prime example of a flexible thermoplastic that delivers on strength.
The dense molecular structure of HDPE provides the reinforcing strength the material is known for. So when it's dropped, struck or reinforced with fasteners, it's tough enough to resist breaking, tearing, cracking and scratching.

The corrugated design provides natural structural reinforcements. The wave-like core is designed to provide internal support.

Finally, the manufacturing process is also an advantage. Extrusion allows customization of the durability, strength and flexibility of HDPE without adding bulk or thickness to the board.
Durable plastic you can roll: Benefits and solutions
The flexibility of HDPE corrugated plastic combined with its durability presents multiple solutions for material handling, product delivery, protection and more.
Versatility
HDPE corrugated plastic provides an industrial-strength solution that wraps and flexes around high-value shipments, including shipped bundles of pipes, carbon fiber and reinforced metal rods. It also optimizes protection of high-value products shipped in or on rolls, including cable, wire, high-value film and metal coils. During loading, shipping and outdoor storage, Wave-Core protects against the elements and the impacts of handling. Here's how HDPE corrugate protected rolls of shipped aerospace film.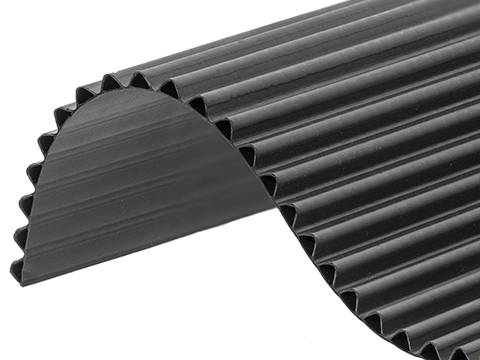 .
Efficient storage and shipping
Flexible HDPE corrugated plastic expands your ability to make bulk shipments at higher volumes. Wave-Core™ is available in rolls up to 1,500 feet and can be cut to size to fit any circumference. Rolled materials occupy a smaller footprint for storage and shipping than other durable materials that lie flat, allowing you to diversify your product offerings and provide more value. For example, this roofing materials company got the competitive advantage because flexible HDPE corrugated plastic enabled them to sell longer sections of product delivered in rolls.
Lightweight
As a durable material, HDPE's light weight is an advantage over steel and other rugged materials because it's less labor-intensive to handle and makes worksites safer, reducing the potential for injury and exposure to liability. Rolls of HDPE corrugated plastic have less shipping weight than other durable materials.
Branding
Flexible HDPE wraps and coverings provide a clean, professional-looking appearance for your product. Unlike many flexible materials, its surface cleans easily and can be made in a variety of customized color options. HDPE is the ideal reusable material you can rely on to represent your brand.
Reusable and sustainable
HDPE corrugated plastic provides an eco-friendly, flexible option for achieving your sustainability objectives. For one, it offers a reusable material with a long lifespan compared to other flexible materials, saving your company significant expense on sourcing, storing and disposal — particularly fiber corrugate. Another advantage of HDPE is it resists dirt, liquids and grease. HDPE is 100% recyclable and widely accepted at recycling facilities, making your sustainability initiatives easy to execute.
Let us design your solution
Whether you're ready for a quote or researching your options, we're here to help. Contact us to learn more about flexible solutions with Wave-Core.
< GO BACK
| NEXT POST >