Ancestry websites are all the rage these days. People are more interested than ever in understanding their family tree, learning how everyone and everything is connected throughout the years and in some cases, the centuries.
At Liberty Plastics, that trend got us thinking. Many of our current and prospective customers may not know our company's family tree and how far back it reaches. Knowing the history of a family or an organization allows you to truly understand your place in it.
So here's a look at our company's family tree and what we stand for, starting with Liberty Diversified International, founded in 1918.
Liberty Diversified International: Where history and values take root
Our founder, Jack Fiterman, was so grateful for the opportunity in this country, he named his new business after one of the country's founding principles: liberty. It's fitting. Jack was born on the Fourth of July in 1892. Originally called Liberty Used Boxes and founded by Jack in 1918, Liberty Diversified International has grown from a small family business to a growing family of companies. Today we employ nearly 2,000 employees in 18 facilities in 10 states and Mexico.

For the LDI timeline and a short video about our history, click here.

One of the largest privately held companies in the Midwest, LDI leads and innovates in four core markets:
Paper
Packaging
Plastics
Workspaces
At LDI, we have experienced exponential growth over the last several decades. Our growth strategies focus on making lives better with innovative products for our customers, employees and communities.
That's the heart of it all: "Making lives better." We truly believe in that mission. Our core values have guided our activities for more than a century, allowing us to create superior solutions for our customers. Our people are passionate about quality, delivery and delighting our customers.

Our core values guide everything we do:
Caring
Innovation
Trust
Excellence
"LDI is not just a company; it's a community of individuals who genuinely care for each other and the world around us," says Greg Theis, CEO. "We're dedicated to making lives better, not only through our products but also through our actions in the communities where we operate. Our commitment to excellence means that when you choose an LDI business, you're choosing a partner that is unwavering in its pursuit of delivering the best solutions and experiences."

To learn more about LDI and read our Code of Conduct, click here.
Liberty Plastics
Liberty Plastics offers superior corrugated plastic that stands apart from the ordinary. Our high-performance Wave-Core™ plastic is used in a multitude of industries and applications. In 1990, Liberty Plastics developed several patented designs that led to advanced building materials and breakthroughs within the roofing industry. Quarrix, a brand within the Liberty Plastics business unit, quickly emerged as a leader within the building products industry.
Headquartered in Minneapolis, Minnesota, with a manufacturing facility in Baldwyn, Mississippi, Liberty Plastics is a part of the Liberty Diversified International (LDI) family of companies. Values-driven and customer-focused, we prioritize exceptional service and quality.
We strive to live by our LDI values of Caring, Innovation, Trust and Excellence in everything we do. Here are a couple examples of how we live by that.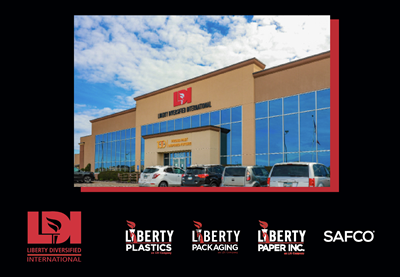 .
Getting it right the first time
To Larry Newell, living by the company's guiding principle of excellence means striving for continuous improvement. As General Manager of the Liberty Plastics Plant in Baldwyn, Mississippi, he's made it a personal mission of his to raise the level of excellence. An example is his recent focus on the spec control process.
"We identified a need to make major changes to our process in order to make it more robust," Newell says. "From the customers' perspective, this will ensure we get the right solution to them the first time."
Exceeding expectations in the midst of challenges
Gary Urbanski, Business Unit Manager for Liberty Plastics, says LDI's core values create connection and structure throughout the family of companies, and Liberty Plastics is no exception.
To Urbanski, the core values of Innovation and Trust are particularly relevant to Liberty Plastics.
"Innovation is finding a way to solve a problem for our customers, and in most cases it includes a variety of departments coming together to make it happen," Urbanski says.
He recounts one customer that had a factory fire, prompting them to overhaul their product movement system. The team at Liberty Plastics reviewed their needs and devised an innovative solution that not only streamlined their process, but also exceeded expectations by delivering an unforeseen performance improvement.
"The Trust our customers put in us must be earned and proven every day," Urbanski says. "We work to listen and exceed their expectations on every interaction."

Liberty Paper
Liberty Paper is one of the largest recyclers of corrugated material in the Midwest! Our state-of-the-art mill creates new linerboard for packaging by recycling corrugated containers. We're an important "leaf" on the LDI family tree — we recycle the corrugated materials into the corrugated items Liberty Packaging sells.
255,000 tons of recycled linerboard each year are produced in our facility
275,000 tons of corrugated material are kept out of landfills
100% sustainable process!
Liberty Packaging
At Liberty Packaging, we provide innovative solutions for complex supply chain problems. We also leverage scale and our integrated capabilities to create sustainable supply chain packaging programs and solutions.
With the highest quality standards, we offer customizable and efficient manufacturing for both small and large customers.
Paper mill and plant integration for the highest package integrity.
Our award-winning creativity is anything but a commodity.
Safco
At Safco, our goal is helping people do their best work, whether it's in the workplace or at school. We make furnishings designed around the idea of helping people connect, learn, create and concentrate.
Unique solutions that are cost-effective.
Comprehensive portfolio of products that accommodate the new demands of the workday.
Customer-service focused and fast shipping.
Let us design your solution!
When you work with Liberty Plastics and our family of businesses, you have a trusted partner that cares, innovates and consistently delivers excellence. Our wide range of innovative, high-quality products and services will help your business run more smoothly and efficiently.
Whether you're ready for a quote or researching the possibilities, we're here to help. Contact Liberty Plastics to learn more about flexible solutions with Wave-Core™.
< GO BACK
| NEXT POST >